Pulley Blocks
In Matte Black Finish
Block Division offers a line of pulley block products specially designed for the stage and theater rigging industry, as well as for movie sets and production activities. Our new mule blocks, as well as our industrial strength swivel eye, fixed eye, and other pulley blocks are now available in a durable matte black oxide finish, which blends into the theater background unnoticed, even under stage lighting. Block Division's pulley blocks are designed to perform above and behind the scenes to support and move stage equipment from backdrops and curtains, to lighting systems, yet be unseen by the audience.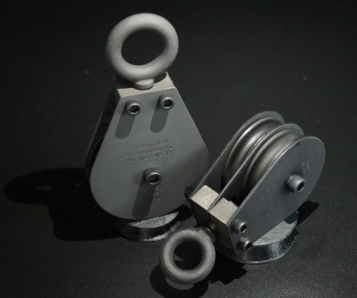 Block Division's extensive line of matte black pulley blocks are capable of diverting or lifting objects easily and quickly during production using wire or synthetic ropes, as well as cables. Our new line of mule blocks are usually permanently installed and mounted under a support structure as a component of the complete rigging system in theaters or stages, offering a significant mechanical advantage.
The heavy duty pulley block product line by Block Division has been used in movie set productions, such as the movies Titanic, Speed and Independence Day: Resurgence. The strength and durability of Block Division's pulley blocks are extremely reliable, and Block Division continues its 60+ year commitment of producing superior quality block and tackle components.
To request any of our products in a matte black oxide finish, call Block Division at 1-800-433-0921.