The Founding of Block Division, Inc.
Block Division, Inc. was developed in 1959 to meet the unique need of a customer. As you might know, oil production here in North Central Texas had a prolific run during that time. The customer was searching for a small, heavy-duty cable Block that would allow oil field workers to pull oil well drill rods out of the ground.
After multiple searches for a product in a set of product reference books called the Thomas Register, Lloyd P. Sutton (one of our founding members) presented the idea of producing a limited number of all-steel Cable Blocks (pulleys) to the other founding members. Quickly recognizing the potential of this type of product, the other members voted the first discovery product line into limited production.
The first line of special pulleys were developed and manufactured at Block Division's parent company, Wichita Supply. Wichita Supply was one of the first regional industrial supply companies. The Cable Blocks were quickly distributed to all the industrial supply stores in the area, with the first line of pulleys flying off the shelves. It wasn't long before people in industries outside the oil fields were talking. Just six months after going into production and finishing their first line of products for the market, Block Division Inc. was born!
Block Division was founded with a vision to provide great customer service and the very best products. Though times have changed and all the founders have since passed on, those very important core values of Quality, Integrity, and Service remain strong for us today. At Block Division, we're taking those core values and using them to fuel our push for new and innovative ways to improve and expand upon our existing lines of high quality manufactured products.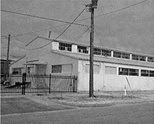 Block Division, Inc.
Founded 1960
Founding Members
Lloyd P. Sutton
James Warman
Paul Teague
Our Process: Developing and Establishing New Standards
All of our original products were manufactured from cold pressed steel, and most were painted with either a sealing coat of army green or black paint. However, our machinists and production workers quickly realized that there were better ways of making Blocks. They began putting all our cold pressed steel products through a "blueing" process.
Block Division then moved forward again by pioneering the use of combinations of metals, finely adjusting the percentages to meet the customer's exact specifications. Once correct percentages were determined, parts were put through a "Galvanized" plating process. This remains the standard method of production for our long-lasting Pulleys and Accessories today…. but we still haven't stopped thinking of new ways to do things.
Currently, Block Division, Inc. is growing and redeveloping our current product lines. We're pushing forward into testing with new materials that will allow you to apply our Pulleys, Sheaves or any of our great accessories to any and every task. If you have a project or job with which you need some help, please let us know. We're here to answer your questions. By the way, we still have an actual person answering phone calls!
Block Division, Inc.
Toll-free: 800-433-0921
Local: 940-723-0214
Email: Info@Blockdivision.com